Our many agencies mean we can offer an extensive range of fixed and drop-arm tripod turnstiles.
Turnstiles provide a visual barrier to unauthorised visitors and meet all the aesthetic requirements needed for today's corporate reception areas.
We can supply either manually operated or motorised mechanism. Unlike the manually operated turnstile, motorised versions offer a drop-arm mechanism which automatically re-engages. This means that you do not need to deploy staff to manually return the tripod arms to their operational position once the emergency has passed.
The turnstiles cabinet can be compact, bridged (standard), boxed, and supplied with a verity of different tops and end panels.
All our turnstiles can be fitted with our revenue collection pods to create high security coin operated turnstiles ideal for public or private sector toilets.
In applications which require DDA or wide access we offer a verity of different manual and automatic pedestrian swing gates.
Tripod Turnstiles | Bridged Turnstiles | Compact Turnstiles | Boxed Turnstiles | Half Height Turnstiles | Waist Height Turnstiles | Manual Turnstiles | Motorised Turnstile | Coin Operated Turnstiles | Manually Operated Turnstiles | Optical Turnstile | Tripod Turnstiles Supplies | Tripod Turnstile Supplier | Tripod Turnstile Manufacturer | Tripod Turnstile Installer | Cheap Tripod Turnstiles | Low Cost Tripod Turnstiles | Tripod Turnstyle | Flap Turnstiles
Typical Applications
Construction sites;
Warehouses;
Lorry parks;
Road and rail;
Internal building security;
External premier security;
Freight depots;
Library's;
Schools;
Universities and colleges;
Office buildings of all types;
Sport and leisure centres;
Cultural centres;
Ports and harbours installations';
Private or Public toilets.
Tripod turnstiles offer a compact, cost-effective, fast operating, easy to use, reliable entrance solution for internal or external use in areas where there is a large and constant flow of people.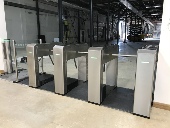 Evolve TT301
Tripod Turnstiles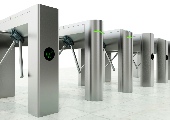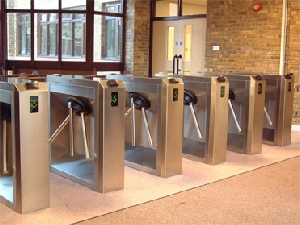 Coin Operated
Tripod Turnstiles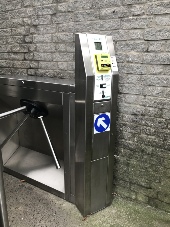 Contact-less
Tripod Turnstiles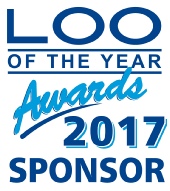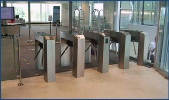 Automatic Systems
Tripod Turnstiles
"The best equipment deserves the best service".