Bollards are useful in mixed-use public spaces, which support both pedestrian use and emergency or service vehicle use.
In order to offer the best solution for your site specific requirements we use two manufactures Automatic Systems and BFT, please use the links on the right to find out more about their products.
Bollards costs vary greatly depending on their purpose and ability to resist ramming vehicles, with the most expensive bollards being able to stop vehicles at speeds of 50 mph (80 km/h).
Retractable or "rising" bollards:
Can be lowered entirely below the road surface (generally using an electric or hydraulic mechanism) to enable traffic to pass or raised to block traffic. Rising bollards are used to secure sensitive areas from attack or to enforce traffic rules that are time related or to restrict access to particular classes of traffic.
Removable bollards:
Are fitted into a permanent metal ground socket, from which they can be removed entirely to allow traffic to pass or when not required.
Manually retractable bollards:
Generally lowered by a key mechanism, are found useful in cases where it is difficult to install any electrical or hydraulic systems.
Folding bollards:
Are hinged at ground level, allowing them to be folded flat to permit vehicles to drive over them, are useful to control the allocation of car parking spaces.
Automatic and Manual Vehicle Bollards are increasingly used to help protect a variety of buildings.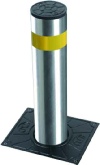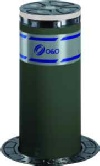 "The best equipment deserves the best service".
High Security Road Bollards | Road Barrier | Road Blocker | Traffic Blocker | Rising | Fixed | Manual | Automatic | Folding | Retractable | Removable | Hydraulic | Electric | Crash Rated | K4 | K8 | K12 | Town Traffic Management | Urban Traffic Control | Traffic Calming | Anti vandalism | Anti Ram | Anti-Terrorist | PAS68 | Automatic Systems | BFT | O&O