Sensitive sites, such as military, industrial facilities, government buildings, etc demand a high level of security.
For these applications, Willings can offer high security barriers, a range of bollards and retractable barriers - such as high security road blockers.
For added safety, blockers can be inter-locked with a vehicle rising barrier. The barrier arm will only raise once the road blocker has fully lowered and the barrier arm lowers before the road blocker raises.
Electrically Operated Rising Road Blockers
Offer an advantage over hydraulic blockers because they do not require a side column to house the drive mechanism. The electromechanical drive is operated through a control unit that can be positioned as far away as 20m (50 m with additional filter for frequency converter).
Hydraulic Operated Rising Road Blockers
Are operated by an energy accumulator that can be positioned as far away as 5 m (15 m optionally). This facilitates placing several barriers end to end to control exceptionally wide access points.
An energy reserve also allows up to 3 operating cycles in case of power failure.
Surface Mounted Road Blockers
A surface type road blocker is installed directly on the road, therefore it does not need any excavation or civil works.
Because the state of alert at sensitive sites is constantly changing, road blockers are generally only used when in a high state of alert. At other times, vehicle barriers, gates, bollards or a combination of all are used to protect the outer perimeter.
Where there is a threat of vehicle attack, in addition to the control of vehicle access, then a road blocker is the ultimate solution for perimeter security protection.
Even though the attack may be from high tonnage vehicles travelling at high speeds - the impact damage caused to the front, wheels and the bottom of the vehicle will stop it from moving.
Optional safety devices like photocells, inductive loop detectors, flashing lights or red/green traffic lights can be integrated to the system very easily.
High security road blockers are used to secure s
ensitive sites, such as military, industrial facilities, government buildings, etc.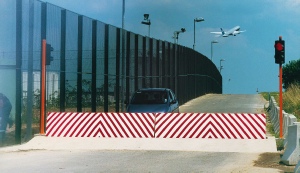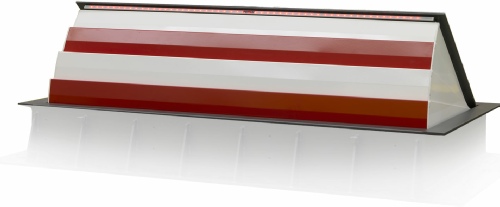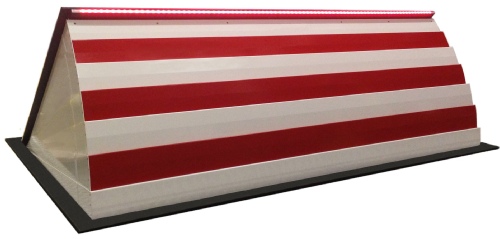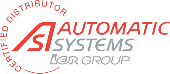 "The best equipment deserves the best service".
High Security Road Blockers | Road Blockers | Traffic Blocker | Rising Kerbs | Wedges | Crash Barriers | Hydraulic | Electric | Crash Rated | K4 | K8 | K12 | K30 | ASTM 2656-07 | Anti vandalism | Anti Ram | Anti Terrorist | PAS68 | Automatic Systems | Parking Facilities