All our full height turnstiles have heavy duty head mechanisms with continuously rated solenoids designed for high usage.
The 120 Degrees 3-arm full-height turnstile offers a high level of security and a comfortable space for the user whilst the 90 Degree 4-arm turnstiles provides increased security.
Typical Applications
Construction sites;
Warehouses;
Lorry parks;
Road and rail;
Internal building security;
External premier security;
Freight depots, and
General industry.
Full height turnstiles give a high degree of security with unmanned control.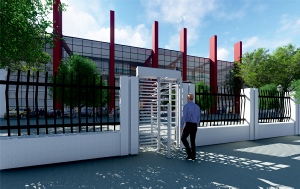 AS TRS
Full-Height Turnstile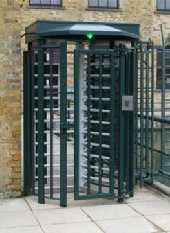 "The best equipment deserves the best service".
Tripod Turnstiles | Bridged Turnstiles | Compact Turnstiles | Boxed Turnstiles | Half Height Turnstiles | Waist Height Turnstiles | Full Height | Motorised Turnstile | Coin Operated Turnstiles | Manually Operated Turnstiles | Optical Turnstile | Tripod Turnstiles Supplies | Tripod Turnstile Supplier | Tripod Turnstile Manufacturer | Tripod Turnstile Installer | Cheap Tripod Turnstiles | Low Cost Tripod Turnstiles | Tripod Turnstyle | Flap Turnstiles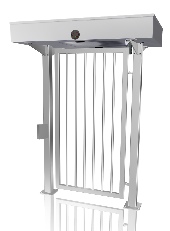 AS TRS PMR
Pass Gate Turnstile
Evolve FT100
Full-Height Turnstile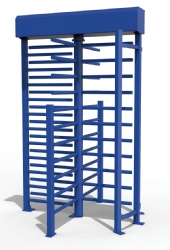 If you need a high degree of unmanned perimeter security than Willings has the products and expertise to help.
We have a large solution of range of Full-Height Turnstiles from leading manufactures such as; The Automatic Systems TRS range, the FT from Evolve to high security booths and revolving doors manufactured by Tonali.